At this point you'll need to cross-reference the information gathered from your ideal client avatars exercise here with the latest statistics on each social media platform below: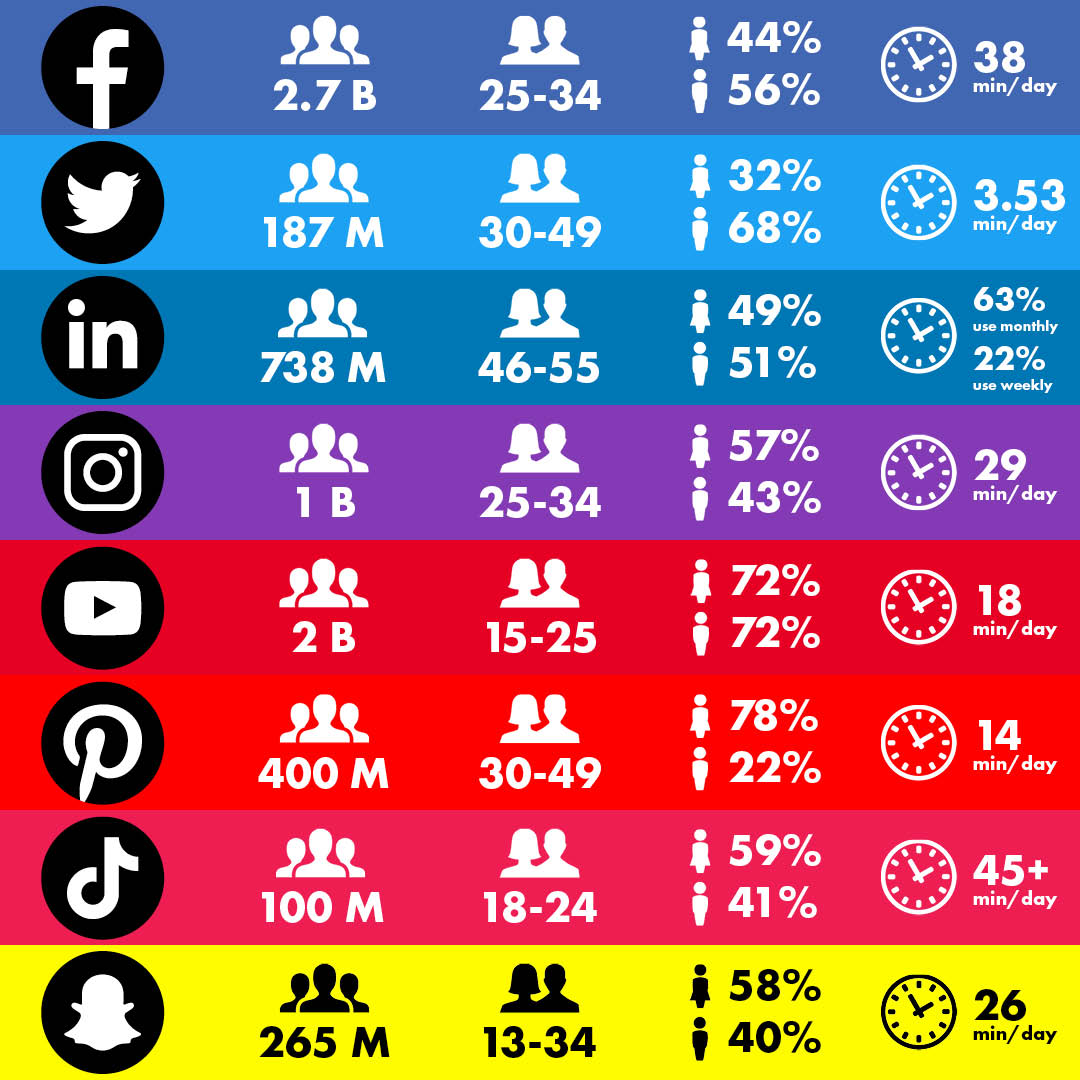 Facebook —
As displayed in the infographic, Facebook is by far the most popular platform and is not going away anytime soon. In fact, Facebook keeps evolving to meet the needs of its users and has steadily been including features that are growing in popularity, such as:
Facebook Pay

New AR Options and Expansions
Facebook has 2.7B active users, the age range that uses the platform the most is between 25-34, has 44% female users and 56% male and the average time a user spends on the platform per day is a staggering 38 minutes.
Although the younger generations prefer platforms such as Snapchat and TikTok, they are still using Facebook and regardless of your business — Facebook is a safe bet for a social media platform to reach a wide array of demographics.
Twitter —
Twitter is one of the original social media platforms and its user-base and growth have remained relatively consistent from year to year. Twitter continues to reinvent itself and add value to its users. Earlier this year, Twitter announced they would be releasing five new features:
Communities

Super Follows

Safety Mode

Business Profiles

Audio Spaces

​
Twitter has 187M active users with the most popular age range using the platform being between 30-49. 32% of its users are female while 68% are male and the average time a user spends on the platform is 3.53 minutes per day.
Twitter has a character limit of 280 making messaging short, simple and to the point. Twitter is a great platform as a business for sharing news/public relations and actively providing customer service.
LinkedIn —
LinkedIn is the number one lead generation social media platform and has a demographic comprised of business professionals. LinkedIn continues to pivot to better cater toward its users and rolled out some new features earlier this year:
Live Video

Name Pronounciation

Reactions

Polls

Organic Carousel

​
LinkedIn has 740M active users with the most popular age ranging between 46-55. 49% of its user base is female while 51% is male. On average, 63% use the platform monthly while 22% use it weekly.
LinkedIn is a great social media platform if you're a business marketing to other businesses as it attracts higher educated business professionals. It has been said to be a "gold mine" for ads due to the B2B nature of the platform's demographics.
Instagram —
Instagram is one of the largest social media platforms in the running and has been expanding in features to assist the influencers using the platform. Some of its most recent new features are:
Text translation in stories

Expansion of tracking data in analytics

A black-owned label feature to allow black-owend businesses to be discovered

New collaborative feature for Reels

Security check-ups

​
Instagram has 1B active users with the most popular age range on the platform being between 25-34. 57% of users are female while 43% are male and an average time of 29 minutes/day is spent on Instagram.
Instagram is continuing to see growth and also provides an advantage over some of the other social media platforms as it shares the same ad platform as Facebook allowing for cross-promotional opportunities. Influencers and content motivating shopping is the future for this progressive platform.
YouTube —
YouTube is the second largest social media platform after Facebook, it is the second largest global search engine next to Google and the largest video platform of all time. YouTube's popularity hammers home the much-desired video content and the platform's popularity grew ten-fold during the pandemic. Some new features rolled out this year to support creators are:
Subscribers only chat

Polls

Clipping feature

​
YouTube has 2 billion active users with the most popular age range being between 15-25. 72% of all female and 72% of all male internet users use YouTube with an average of 18 minutes per day spent on the platform.
Emerging trends show that a large percentage of the population are using the social media platform for exercise and keeping healthy, in addition to many children under 11 consuming content from YouTube.
Pinterest —
The social media platform is primarily female and Pinterest has one of the highest splits in gender for demographics. Pinterest has a loyal database and has recently seen an increase in Gen Z and Millennials. One of the newest features by Pinterest to keep up with trends on social media are:
Pinterest has 400M active users with the most popular age range being between 30-49. 78% of users are female while 22% of users are male. An average of 14 minutes per day is spent on Pinterest.
97% of searches on Pinterest are unbranded. Meaning that users do not search a particular brand name when browsing. Making this platform extremely favourable for any product-based company.
Snapchat —
Snapchat is a pioneer in bringing augmented reality to its users and mirrors how people interact with each other face-to-face. Some of the latest features the platform is unveiling are:
Cancel send

Favourite stickers

Shared story

Remix stories

Friend check-up

​
Snapchat has 265 million active users and is growing with the largest age range using it being between 13 - 34. 58% of its users are female, while 40% are male and users spend an average of 26 minutes per day on the social media platform.
Snapchat has a highly engaged user base and is still considered to be the most popular social media platform among teenagers. The unique platform allows businesses to advertise with users through fun sponsored lenses, geofilters and more!
TikTok —

​
TikTok has a dedicated user-base with users spending on average the most amount of time per day on the social media platform when compared to any other. Some of their latest features include:
TikTok Playlists

TikTok Captions

TikTok Music Visualizer

​
TikTok has 100+ million monthly active users with the primary age demographic using the platform being 18 - 24. 59% of those users are female while 41% are male and spend an average of 45+ minutes per day on the platform.
TikTok is growing in popularity among adults and was the third fastest growing brand in 2020. In January 2021, TikTok was the second most downloaded app in the world with 90%. TikTok is only growing in popularity.
Now that you have an understanding of the demographics for some of the most popular social media platforms, it's time to decide which social media platforms are a match for your business's ideal customers and which platforms you're going to commit to.
Unsure of where to start when deciding which social media platforms to commit to for successfully growing your business through social media in Regina? Check out 4 key considerations here before making your next move.
Contact
If your company is seeking more information on how to WIN at social media marketing, or just want to talk shop, contact us. Call us at 306.502.5778 or send us a line here.